Hendrickson Europe History
In 1913 Magnus Hendrickson, a Swedish immigrant, started manufacturing commercial trucks in Chicago, Illinois. To meet the demand for robust, durable suspensions Hendrickson introduced the first tandem walking-beam suspension in 1926 and pioneered load equalisation principles between truck axles.
Hendrickson's pioneering spirit led to a series of valuable "firsts" that have changed the industry and inspired growth. This growth began with the production of our first tandem suspension in 1926 to the innovative designs of today's HAULMAAX®, an advanced lightweight durable tandem rubber suspension, PRIMAAX®, a severe-duty air suspension and AIRTEK®, an integrated front air suspension and axle for trucks and tractors.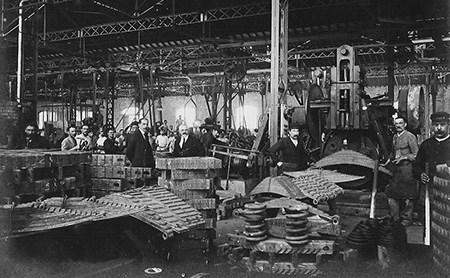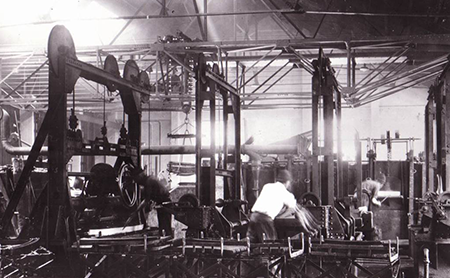 This innovation enabled Hendrickson to design and manufacture new product lines and expand into new global markets. Hendrickson extended the company's global reach by acquiring an English company, Norde Suspensions, Ltd., in 1985.
After the purchase of Norde Suspensions, Ltd., the company was renamed Hendrickson-Norde becoming the headquarters for Hendrickson's European operations, the name was changed to Hendrickson Europe Ltd., in 1989.
Since the purchase of Norde Suspensions, Hendrickson Europe has been focused on the development of smart characteristics for suspensions and components as intelligent vehicles emerge in the heavy-duty trucking industry. Lightweight solutions – rubber tandem suspensions, air suspensions and lift axle systems from the Hendrickson range have been the mainstay on many European trucks as OE fitment ever since. Elements such as brakes and electronics hold tremendous promise for tomorrow's OEM, fleet and owner operator. Engaging and energizing the global trucking community, Hendrickson remains at the forefront in the development of superior and unique components for a new breed of trucks, tractors and trailers.
In 2015, Hendrickson extended their global reach even further by acquiring four spring and stabiliser manufacturing plants, increasing footprint size in Europe.
Since 2016 Hendrickson Commercial Vehicle Systems Europe in Austria is responsible for all European locations and product segments.
Hendrickson also acquired a U-bolt, pin and screw manufacturing facility in 2018 and expanded their product range.
Today, Hendrickson has research and development facilities and five plants located in England, Germany, Austria, France (two locations), Romania and Poland providing state-of-the-art leaf spring, stabiliser and U-bolt solutions for the European OEMs.